Gold coins of any kind or make. Call ahead; we can buy your entire collection!
Gold Coins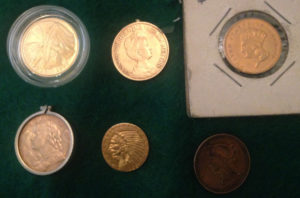 Raymond's will purchase entire collections. We are looking for gold coins of any karat, grade, rarity, or metal percentage. We buy and deal in vintage, antique, or commemorative collector's coins.
For additional information in purchasing silver coins, or selling entire non-precious metal coin collections, check out our other pages.
Call us today to discuss your gold coins.
(757) 617-4043